>
Home
>
About Us
In April of 1985, a group of 42 people under the leadership of Pastor Franklin Horne, became known as the St. Joseph Seventh-day Adventist Church. This group, though small at the beginning was blessed by the Lord and met regularly in St. Joseph.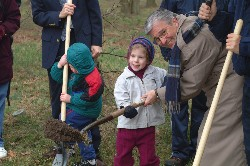 In 1986 the St. Joseph church acquired 7.58 acres of land at the Northeast corner of Washington Avenue and Maiden Lane in St. Joseph Township. This congregation had taken the first step towards a permanent physical presence in St. Joseph.
Though meeting in a rented facility at the Riverview Park Christian Church, membership increased. Several Pastors from the Pioneer Memorial staff came and ministered to the members, at the same time being assisted by students enrolled at the Seventh-day Adventist Theological Seminary on the campus of Andrews University. Through the 1980's and 1990's a continual growth in the Building Fund kept the dream of a church building in St. Joseph alive. 
In mid 1990 the congregation outgrew the Riverview Park facility, necessitating a move to rent from St. Peter's United Church of Christ. 
In the fall of 2000, the church met in business session voting on a design concept and hiring an architect to complete drawings from the Preliminary Design Phase through the Construction Phase. 
In the spring of 2001, work began in earnest to build a House of Prayer in St. Joseph. Much sweat equity went into preparing for building. With the help of 20+ church members we leveled the ground after the footings had been poured, all in preparation for the foundation. With God's blessings in July many of our church members and a crew from Maranatha Volunteers International, were able to shell the building and put on the roof, including shingles! All in two weeks time! Praise God. The contractor took over and with the constant supervision of Jim Davidson plus many more hours of volunteer work painting, etc., we were able to hold our first church service in our own facility on November 30, 2002.